Moorfields reviews sectors likely to face difficulty in 2019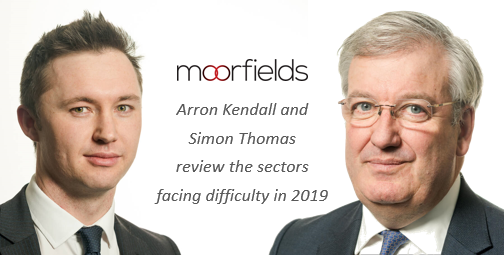 Latest insolvency figures are signalling an increase in the number of corporate insolvencies in 2019 with Brexit, GDPR and advances in technology, including the threat of cyber-attacks, all playing their part.  Moorfields discusses 4 key sectors they feel are going to come under pressure in 2019 –Care homes, Shopping Centres- leisure and retail, Automotive and Property.
Shopping Centres – Leisure and Retail
Arron Kendall said "Retailers and Restaurateurs nationwide have been battered by ecommerce over the past few years with some major well publicised casualties. Others that have survived have undertaken extensive CVA restructures to enable them to shed costs."
"Whilst many claim that shopping centres have had their day. I am a firm believer that this is not the case, they are still popular destinations for people at weekends and will continue to attract large numbers of people, but unfortunately I think the sector will continue to take some hits while they change their traditional structures. Both retail parks and shopping centres are going to have to think hard about their offering with shopping centres thinking more like retail parks by offering leisure and dining facilities on a larger scale and retail parks thinking more about experience and less on discount."
"Living wage and business rates will continue to play a large factor in 2019 and then there is the added pressure of Brexit which means many retailers are stockpiling fearing uncertainty around imports."
Care Homes
Simon Thomas said "It is no surprise to hear that we expect care to continue to face issues in 2019, we are all aware that the sector has been struggling to cope with continued demands against stretched council budgets.  In addition the sector is facing issues with labour and now to add to the mix GDPR regulations, the system is in desperate need of a complete overhaul to find a sustainable model."
"We expect to see some big technological changes emerge in care in the next 2 years, including the introduction of home monitors so loved ones can view their elderly relatives and check vital statistics including blood pressure etc. which could in turn reduce the need for 24/7 care. Its also highly likely that new GDPR regulations will mean that a lot of care homes will have to invest in further inhouse MI systems to ensure they comply adding further financial burden."
"In terms of labour, shortages are still a major issue. The Government is going to have to invest in further training programmes to train potential carers whilst also investing in social media campaigns to encourage more people to consider a career in care."
Automotive
Simon Thomas said "Last week we received reports that Jaguar Land Rover would be cutting its workforce by 4500 after a slump in demand for diesel cars, with Ford and Honda issuing similar news about cutting jobs. Whilst many report they are gearing themselves up to be leaner machines in preparation for a no Brexit deal there are still significant more dramatic changes that will need addressing." 
"It was once a status symbol to own a car and ranked as the next largest purchase after a house, these days many people turn to alternative leasing options to avoid increasing depreciation figures and expensive maintenance bills. Indeed many younger people do not wish to own a car. In addition the increased uptake of electric vehicles and incentives to become more green will encourage consumers away from diesel cars. I think we will see an increase in rental and leasing companies competing for business. As a result I think we may see an increase in 2nd hand car leasing and rental but I think this will be a difficult market to sustain."
Property 
Arron Kendall explained "The UK housing market struggled through 2018 and sales are unlikely to grow in 2019. There is weak supply with many remaining uncertain about how Brexit will play out. On the plus side mortgage rates look to remain favourable but with so much uncertainty many are unwilling to invest."
"Property developers previously ready to take on a challenging market now have the added pressure of worrying about labour and material costs following Brexit. We have seen new lenders enter the residential development market and inevitably this has resulted in some problems as they gain experience in this sector."
 About Moorfields
Moorfields is one of the UK's leading independent firms of restructuring and insolvency specialists. Our highly skilled teams include restructuring professionals and licensed insolvency practitioners who provide leadership, experience and high quality advice to companies and their stakeholders in financially distressed situations.
View all Our News