Tom Straw discusses the fate of department stores and the knock-on effect for other retailers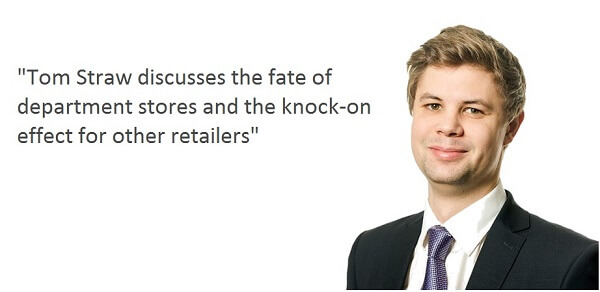 The administration of House of Fraser and subsequent take over by Sports Direct dominated last year's and much of this year's headlines. Store closures and declining sales were widely reported but the dramatic impact this has had on smaller retailers has been less documented.
Recently it was confirmed that Debenhams has also fallen into administration which will no doubt set the tone for retail particularly regarding landlord negotiations and likely purchasers. Debenhams, alongside House of Fraser, is the largest occupier of non-food floorspace in the country so it will be interesting to see who makes moves to enter their market.
Unfortunately, the administrations of these large department stores is having a devastating effect on brands who rely on a concession model. Brands such as Superdry, Office Shoes, Ted Baker, Mulberry, Jigsaw, Oasis, Warehouse, Karen Millen and AllSaints are just a few of those reporting losses or adverse consequences as a result of debt written off in the administration of House of Fraser.
So how are the department stores influencing the rest of the high street?
Debts written off as a result of restructures. We recently handled the administration of Pretty Green who took a £500k hit when House of Fraser entered administration, considerably less than some others whowho suffered losses in the millions. Whilst the department store is keen to rebuild relationships, retailers will feel uncertain not having control of their own destiny.
Lack of presence - Stores unable to fund actual bricks and mortar stores have relied heavily on concessions as a means of high street presence. Many brands chose this route to market, as the department stores have a stretch throughout the UK and additionally provide online presence on their own department store websites increasing the chances of sales. Lack of availability and trust will now see many retailers having to invest in more traditional premises.
Concessions withdrawing due to risk - When many retailers suffered loss they withdrew their concessions, so the future of the department store is unpredictable. Without some of the big brands what does the future department store look like?. Shareholders will have to work hard to build bridges with existing and previous brands and probably have to consider more flexible terms. We would expect to see brands that remain attempt to renegotiate credit terms or require deposits, which will apply pressure to already struggling department stores and shopping centres, offering a similar concession model.
Own portfolio led sales diluting other brands – Many retailers often used concessions to surround their own brands with those of a similar level, but it is likely we now see many of the departments stores stocking merchandise to promote their own portfolio.
Consumers lacking trust – Previously consumers would head to buy loved one's gift cards from department stores as an easy way to ensure they would find something they like, and with stores nationwide it made purchases like this an attractive option. Consumers will now understandably be sceptical about buying anything from these retailers let alone gift cards.
Unfortunately, retailers (and casual dining establishments) are going to have to think hard whether they can continue within House of Fraser, Debenhams and the concession model in general, however for many this represents a significant revenue stream and means of achieving scale without a significant overhead so such decisions are not easy. There still seems to be a lack of strategy and contingency planning from brands surrounding their futures and currently it looks like more of an opportunity for bulk stock sales.
These iconic department stores have are a long way to go to return to their former glories and will have to work hard to come up with a strong proposition to build both supplier and consumer confidence.
View all Our News